Dallas, October 25, 2011: Due to their recent accreditation by the Accrediting Council on Continuing Education and Training (ACCET) and a history of success in the Dallas-Fort Worth area with their graduating students and our certification programs, MyComput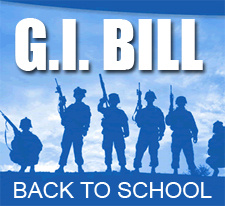 erCareer is now approved by the Texas Veterans Commission to provide IT Training to current and former military personnel for careers in the Computer Industry. Eligible veterans can now use their GI Bill and other veteran's benefits to enroll at MyComputerCareer.com. "We are thrilled that we can now help further the IT career opportunities for members of our armed services," stated Tony Galati, Founder and President of MyComputerCareer.
The GI Bill is a benefit available to veterans of all branches of the military, including former, active duty and reserve members. It provides funding for educational opportunities to ensure that those who have selflessly served in the United States military can receive the necessary education to transition successfully to civilian life. Through the GI Bill, eligible veterans and members of the armed services will be able to receive a substantial tuition grant plus a monthly housing allowance to make continuing education affordable.
To check your eligibility status you can contact a Career Advisor at MyComputerCareer.com (866.606.6922) or go online to www.gibill.va.gov to determine your eligibility. As of October 1, 2011 veterans and members of the armed service are able to receive full benefits for career oriented and technical schools with a course load lasting less than a year. Service members may also take a FREE Career Evaluation to initiate contact with the school.
"These veterans have dedicated their time and risked their lives serving our country, and the GI Bill benefits will help them begin the next phase of their lives as they transition out of the military. Here at MyComputerCareer we want to help our veterans become certified and able to quickly start a rich and successful career," Mr. Galati said.