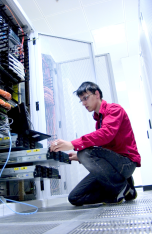 Despite temporary setbacks in the economy, Information Technology continues to be a solid career choice for those already in the field or those migrating from other, more depressed industries. Yeah, there's some chatter online and among I.T. professionals about whether I.T. is a good career choice right now in the run-down economy. Some inside the industry don't want to see more competition for jobs so they discourage "outsiders" with any bad news they find about layoffs, outsourcing and the like. And that's too bad.
If you step back from the underbrush and take a look at the forest, the computer industry or Information Technology stands tall and straight among it's withered peers. In a national and global economy that has shrunken or is growing only anemically—especially in the domain of jobs—I.T. is one of only 2 or 3 sectors predicting significant growth over the next several years. So why wouldn't you position yourself for one of these few growth categories?
Face it: I.T. is where it's A.T. Computers and information have become the engine of the global economy in the new millennium. Driven by dynamic and almost daily innovations both at the consumer and commercial levels, there is no visible end to this voracious demand for technology. Every enterprise, and yes, every individual increasingly relies on computer technology in all its variety and will for the foreseeable future. This industry affects all others in a way that is perhaps unparalleled in human history. Computers own! And those who control them control the world! MUAHAHAHA!
Ok, that may sound a little maniacal but on a rational level, it's absolutely true. So if you're changing careers, where do you want to be--a growing industry or a declining one? And what is it worth to you to be there?
Pathways to an I.T. Career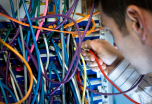 Every choice in life, every fork in the road, every benefit to be gained has its price. A computer career is no exception. So a thorough examination of the value proposition of this "purchase," like any major decision is a must.
The average income for an I.T. professional in the U.S. is currently about $82,000 per year. Robert Half & Associates, a major recruiting and staffing firm for the industry recently published a salary guide for I.T. professionals and here is just a small sampling of job titles that provide that kind of earning potential in 2010 according to them:
In Networking/Telecommunications Salary Range
Network Manager $75,750 - $105,250
Wireless NetworkEngineer $73,000 - $ 99,000
Network Administrator $54,500 - $ 80,250
Telecommunications Mgr. $72,250 - $ 97,500
In Technical Services, Help Desk & Technical Support
Manager $66,500 - $ 92,750
Systems Administrator $51,250 - $ 80,250
Systems Engineer $64,250 - $ 93,250
Instructor/Trainer $47,000 - $ 74,000
Business Continuity Analyst $71,750 - $102,750
In Application Development
Project Manager $75,000 - $111,500
Systems Analyst $62,250 - $ 92,250
Developer/Programmer Analyst $57,000 - $ 99,250
In Database Administration
Database Administrator $72,750 - $107,000
Data Analyst/Reprot Writer $56,500 - $ 83,250
Business Intelligence Analyst $79,250 - $110,000
In Internet & E-commerce
Web Developer $57,500 - $ 88,000
Electronic Data Interchange Specialist $61,500 - $ 87,250
E-Commerce Analyst $66,750 - $ 96,250
The certification training at MyComputerCareer.com qualifies students, from a technical standpoint, for many of these positions and countless others that pay as much or more. While additional soft skills and experience will be helpful and may be required in some cases, MyComputerCareer.com graduates can expect to compete for many of these high-paying, mid-level jobs within a few years or even months after graduation.
So what is a fair investment for a career that will pay you $75,000 per year or more for many years to come? A BS degree from a typical state university or college will easily cost $50,000 or more in tuition (to say nothing of books and fees). For a private University, expect to double or triple that sum. And the earning potential in most fields will be no better even with the "branded" degree.
But let's say you could get your education for less--just $25K or so. At that price, you will triple your investment the very first year you reach average compensation! That's a 300% return in just one year! Unheard of in the financial sector--or with most college degrees. And every year you earn at that level and beyond, your profits pile up exponetially.
Now, in fairness, you're not likely to make $75K your first year out (although you could!). But let's say your first permanent I.T. position paid only half that well--just $37.5K--a modest starting sum, indeed. You will have paid for your education and made 33% ROI in your very first year! That's off the charts in these days of the single-digit return! And everything after that is pure profit.
If you financed your tuition, you will have out-of-pocketed only a fraction of the tuition in the first year or so—let's say $2,000 of it. In that case, your ROI in year 1 of your new career is 1750%. That's bordering on the insane! And you deserve it!
Even if you financed your training for a minimum term at a moderately high interest rate, you'll easily pay it off with earnings of about $3 an hour. However you run the numbers, investing in an I.T. career is bound to pay YOU in spades. The industry keeps growing as the economy improves. Jobs are plentiful and pay levels for comparable training and experience consistently outperform most other industries. Today, the I.T. career value proposition is excellent. But it stands to get even better in the months and years ahead. So what are you waiting for? Invest in your own success. Do I.T. today!
Take the Free Career Evaluation at http://mycomputercareer.com/evaluation/eval.php