"With all the books and online training programs out there, why should I bother coming to class with a real instructor?" Good question!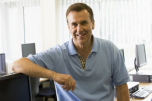 It's true! Technology has changed the world of education. Computer-based learning has become very popular. Working adults, trying to find ways to balance life and school, find online classes more flexible, and for schools they're less expensive than filling a classroom. The fact is, there are enough tools out there, both online and off, that you could virtually educate yourself on any subject you choose! As a result, courses led in the traditional classroom setting have begun to dwindle.
But which method actually works better? Which student is more likely to succeed? Are online computer training programs truly easier and more affordable?
In an article published by The US Department of Education in 2010 the research of over 50 different studies was combined in order to finally prove which is more effective—not just more popular or convenient. What they found was that retention was improved by a whopping 35% when both methods of teaching were employed in a class instead of just one or the other.
35%! When it comes to the best way to earn IT certifications, that's the edge that could make all the difference. But there's more than just an increase in knowledge retention. Instructor-led training excels in actual skill development. Learning about a subject, like computers, is one thing. Applying that knowledge in real world situations is quite another.
Online computer training is appealing because it can be self-paced and there's no peer pressure or public performance requirement. But that's also its greatest weakness when it comes to quickly developing meaningful, marketable skills. Can a computer look you in the eye and make sure you're getting the key points? Can it help you set goals and make study plans? Can it tell you what working in the I.T. field is really like? Honestly, without the hands-on support, accountability, and encouragement you get from a live, caring instructor, most people simply cannot stick with a career-change program long enough to actually make the change!
Are classrooms different? Yes! You're involved, and you're not alone. Learning is easy when it's part of a live discussion, or a hands-on lab with your peers. That's why MyComputerCareer.com continues to use the best of both worlds for optimal learning and skill development. MCC instructors are handpicked I.T. professionals with extensive real life experience. So they can provide the kind of personal guidance that you simply can't get from a book. And class schedules are easily manageable for even the busiest of students—so you get the best of both worlds!
In the end, it's the effort that you put into it that makes the biggest difference to what you'll get out of your education investment. But we make sure that you have all the tools and hands-on help that you'll need to succeed, to make sure you get your extra 35% and much, much more.